Metrology on a cellular scale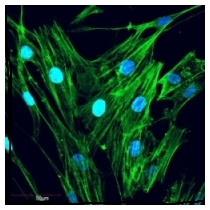 Metrology for health underpins the more reliable and efficient exploitation of diagnostic and therapeutic techniques. The development of new technologies is essential to improve health care and patient protection and to limit health spend. In addition, legislation requires more and more substances and techniques to be covered by metrology such as through the in-vitro diagnostic medical devices directive 98/79/EC.
New forms of therapies, based on stem cells and tissue engineered medical products offer the hope of developing customisable implantable artificial tissue to overcome shortages of transplant organs and revolutionise injury and disease treatment. However, despite significant research efforts and the enormous potential of a new revolution in personalised medicine with damaged or diseased organs being quickly replaced with off the shelf products, overcoming the continual shortfall of organs for transplantation, commercialisation has been slow and few treatments and products are on or coming onto the market.
For more information: Dr. Paul Tomlins