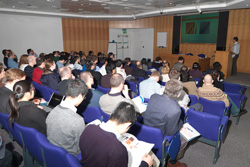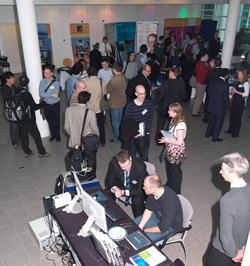 The workshop was held at the National Physical Laboratory, Teddington, TW11 0LW, UK. The main lecture theatre was the focus for the event, with foyer space used for a small exhibition and coffee breaks.
Format
The workshop featured a series of 30-minute presentations, which were a mixture of the results and outputs from the research of the project (from the eight research teams), plus selected speakers from the end user community (aerospace, high value manufacturing, large science facilities). The aim of the workshop was to demonstrate the outputs from the three years of research and to survey what are the remaining or new challenges facing users of large volume metrology. The intention was to build on the three-year project by developing a consortium to bid for further funding for a 2017 EMPIR call to tackle other issues.
The NPL Reception foyer was used for a small exhibition of some of the research outputs from the project and small stands from equipment suppliers and organisations. Coffee breaks were held in the foyer, giving attendees a chance to see the exhibits, and at the end of the event, there were optional laboratory tours of NPL facilities.
The workshop dinner and networking event was in a local restaurant on the evening of the first day.
Workshop Agenda
All the research team members presented their outputs: NPL (UK), CNAM (FR), GUM (PL), INRIM (IT), PTB (DE), UCL (UK), U. Bath (UK), KIT (DE); and there were five presentations by external stakeholders.

Agenda
DAY 1 – Wednesday 18 May 2016

09:00

Arrivals and coffee, etc.

 

 

09:30

Welcome and housekeeping

Safety, introduction, programme

Andrew Lewis
NPL, UK

09:40

Scene setting

Andrew Lewis
NPL, UK

10:00

Presentation 1

Mark Scully
Aerospace Technology Institute, UK

10:30

Presentation 2

Jean-Pierre Wallerand
CNAM, FR

11:00

Presentation 3

Automated reference point determination at radio telescopes
– a contribution to the Global Geodetic Observing System

Cornelia Eschelbach
Frankfurt University, DE

11:30

Coffee break and exhibition

 

 

12:00

Presentation 4

An upgraded 50 m 1D facility with refractive index monitoring

Marius Wisniewski
GUM, PL

12:30

Presentation 5

Hélène Mainaud Durand
CERN, CH

13:00

Buffet Lunch

Buffet lunch in foyer (lab visits - TBC)

 

14:00

Presentation 6

Environmental mitigation in Large Volume Metrology with photogrammetry

Stuart Robson
UCL, UK

14:30

Presentation 7

John Liverton
Yamazaki Mazak UK Ltd

15:00

Presentation 8

Karl Meiners-Hagen
PTB, DE

15:30

Coffee break and exhibition

 

 

16:00

Presentation 9

InPlanT – a novel 3D coordinate measuring system for hostile environments

Alessandro Balsamo
INRIM, IT

16:30

Presentation 10

Michele Verdi
Hexagon, IT

17:00

End of Day 1

Depart to hotels, or to restaurant

 

Assemble at 19:00

Dinner in Teddington

The Kings Head Brasserie, Teddington
(walking distance from NPL and The Park & Travelodge hotels)